You can always tell when a mum has been granted a leave pass for a night out with friends. When work schedules have miraculously worked out so there are no late meetings or events for either parents, or a babysitter has been found and confirmed, and turned up to the house.
How can you tell?
Look at the handbag. There will be a teeny tiny handbag, or a gorgeous leather bag – free of stains or marks on the outside. No wipes and nappies hanging out, no bulging water bottles or zip lock bags of fruit to be seen. The gorgeous bag is safe to be taken out – no danger of snot being wiped on it, milk drinks being spilt on it, and it doesn't need to be big enough to double as an overnight bag.
For those of you not quite observant enough to pick up on the bag cue, here are a couple of other indicators that scream, "I am out and about without the children!"
The mum's hair is not in a ponytail. It may have even been straightened/curled or in a style that took more than 20 seconds to achieve. Praise her.
There will be no sign of active wear. No matter how comfortable those leggings, sneakers and singlets are, a mum with a leave pass will not use this opportunity to wear their favourite active wear, unless it is a group exercise class or walk, followed by coffee.
Mums will be squeezing into their favourite skinny jeans, or a little dress, doing the best they can to fight against the water-retaining "mum tum", left from babies. They'll be strutting with a confidence not seen in a while, maybe even years. Tell her how amazing she looks, because she certainly feels amazing.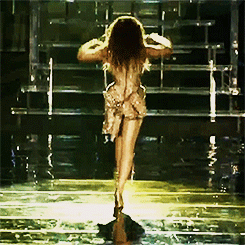 Jewellery will be noticeable. The mum may have long earrings gently dangling from her ears, or a delicate chain around her neck. Jewellery is temporarily safe from little hands trying to rip them off her body. This jewellery may not have seen the light of day in years.
Despite maybe driving the family-friendly SUV, music will be cranked to an obscene level. There will be no nursery rhymes blaring, instead, it could very well be hard-core heavy metal. Whatever the music is, a mum with a leave pass will be singing her lungs out and doing a damn good impersonation of a true musical performance genius. Don't stare or shake your head in a judgmental manner. Let her have her moment, she's earned it.
Even though the mum may have wrangled the skinny jeans, dusted off the teeny tiny handbag and groomed her hair to something resembling a beauty magazine shot, she'll still be home, exhausted, by 10pm.
Because let's face it, as parents, we don't have the stamina to stay out late anymore. And we just never know how many times the kids are going to wake up during the night, or elbow you while you're co-sleeping.
Make sure you're following Life, kids and a glass of red on Facebook for more giggles and snippets of silliness!